Chickpeas, also called garbanzo beans, are a staple of Middle Eastern cuisine and are the star of dishes like hummus and baba ganoush. I like them stirred into soups or paired with a curry sauce, but one of my favorite chickpea recipes is also the simplest way to eat these protein-packed beans. Roasted chickpeas are made with olive oil and spices to transform the humble garbanzo bean into a crunchy-on-the-outside, tender-on-the-inside, spicy and exotic snack.  These beans will store in the refrigerator for several days, but they're best when eaten promptly  after roasting.
[caption id="attachment_1703" align="aligncenter" width="200"]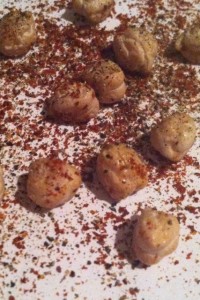 Roasted Chili Chickpeas[/caption]
Ingredients:
1/4 cup chickpeas
2 Tbsp olive oil
1 tsp chili powder
1/4 tsp salt
1/4 tsp pepper
Lime juice (optional)
Directions:
Soak chickpeas overnight in 2 cups of water. Drain, and dry thoroughly with a towel.  Preheat oven to 425F. Combine chickpeas and olive oil in a small bowl, stir to distribute the oil. In another small bowl, mix together the chili powder, salt, and pepper. Add the spice mixture to the chickpeas while stirring to evenly coat each bean.  If desired, sprinkle some fresh lime juice over the chickpeas and stir one more time.  Spread chickpeas onto a baking sheet and place in preheated oven. Roast for 15 to 20 minutes. Allow to cool slightly, then serve warm.
Tips and Notes:
Adapt the spice mixture to suit your preferences. Chili-lime chickpeas are my personal favorite, but a Creole spice blend or a lemon/pepper mixture could also be wonderful.
You may hear some popping noises from the oven while the chickpeas are roasting - this is normal.