[caption id="attachment_2690" align="aligncenter" width="300"]

Tomato Basil Soup with Grilled Cheese Sandwich[/caption]
I'm sure one childhood memory we all share is the joy of eating a hot bowl of tomato soup after a fun day playing in the cold. It's a heart-warming flavorful soup that has been around for many years. Tomato soup made its first documented appearance in America in 1872 by our 1st "celebrity cook", Maria Parloa. It later gained popularity in 1897 by becoming one of the top three soup flavors produced by Joseph A. Campbell, whom you may recognize as one of the founders of the Campbell Soup Company. Today, there are hundreds of different soup flavors around, but tomato soup still remains a timeless classic.
We at Rainy Day Foods offer our version of tomato soup for our consumers to be able to enjoy not only on cold days but also for your home storage needs. This tomato basil soup is very versatile. It can be eaten as a flavorful soup or mixed into a delicious pasta sauce. As a thick soup, boil 2 parts of water and then add 1 part of soup. For more of a thinner soup, try using 3 parts of water instead of 2. We enjoy our tomato soup with the ever-so-simple grilled cheese sandwich.
[caption id="attachment_2692" align="alignleft" width="150"]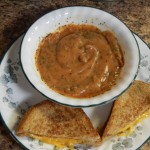 Tomato Basil Soup and Grilled Cheese Sandwich[/caption] [caption id="attachment_2693" align="alignleft" width="150"]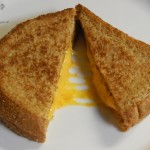 Delicious Grilled Cheese Sandwich[/caption]
We've learned the trick to making the perfect grilled cheese sandwich is to butter both sides of each piece of bread. Lightly brown one side of each slice of the bread, then flip one of the slices over, quickly topping it with the shredded cheese, then sandwiching it with the other slice of bread, browned side down. Then flip the sandwich as a whole to brown the final side.
[caption id="attachment_2694" align="aligncenter" width="300"]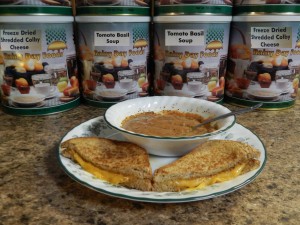 A hot quick lunch favorite![/caption]
http://en.wikipedia.org/wiki/Tomato_soup
Contributed by Angelia Kunz