[caption id="attachment_2722" align="aligncenter" width="212"]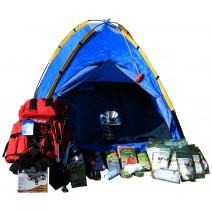 Deluxe 2 person 72 hour emergency kit[/caption]
A few weeks ago I attended a very interesting preparedness meeting. This meeting had a lot of great ideas. I especially enjoyed their top ten lists, so I thought I would share those. The first list is the top 10 non-food items to store. Here it is:
1. Toilet paper—aside from the obvious hygiene benefits, you can use the inside rolls to make fire starters and to make pots for seed starters.
2. Pain relievers and medicines—there is nothing worse than being sick and not having the first aid supplies you need. Check the dollar store for inexpensive items.
3. Batteries—this one is kind of obvious. Take a look at the most common battery needs for your household and get some of every size, AAA to D.
4. Duct Tape—there are so many uses for this. From tent hole repairs to bandages to rope. If you can imagine using duct tape in a project, it will probably work. Here is a website you could check out: http:www.backdoorsurvival.com/duct-tape-for-survival/.
5. Paper goods—having a supply of paper plates, cups, towels, and plastic utensils can be invaluable when the power is out. You don't have to worry about washing dishes during a power outage.
6. Ziplock bags—the heavy duty freezer storage strength can be used for all kinds of things. There is no better way to keep things separated and protected from water and mishaps. They should be in your emergency kits.
7. Contractor trash bags—there are about as many uses for a trash bag as there are for duct tape. You can make rope from it, build a tent to stay dry or clean up a mess in an emergency. The heavy duty, contractor bags that you can purchase at home repair stores are the best.
8. Soap—keep some good old bar soap on hand. Along with frequent hand washing, it is your most effective weapon in fighting germs. Better yet, get supplies and learn how to make your own.
9. Tarps—another multi-functional preparedness item, the tarp is invaluable for protecting you and your things from the elements. If you were to sustain damage to your home or roof, you could make temporary repairs with a tarp.
10. Feminine products—unless you want to go back to the way it was done in the olden days. The products used today were developed as bandages to absorb the blood of war wounds and can still be used for this purpose.
Some of these items were things I had never considered storing. I hope you will do as I have done and take some time to see what you should add to your storage plan. Next time I will share the top 10 food items to store.
Some other non-food items that are great for emergency storage supplies can be found at http://rainydayfoods.com/products/emergency-supplies.html
Contributed by Pam Higley