I love to combine food storage ingredients in unexpected ways, and
this recipe is a perfect example. Dehydrated mixed vegetables and
buttermilk biscuit mix (both from Rainy Day Foods) come together with
a few additional, food storage-friendly ingredients to make a
comforting vegetable "pot pie." Real pot pie is made with a crust, but
this version is so easy and delicious that it has become one of my new
favorite dinners. This dish would also be a great place to use up
leftover cooked chicken or turkey: simply add your shredded meat along
with the vegetables for an extra-hearty supper.
Ingredients:
1 Tbsp oil
1/2 cup chopped onions, fresh or rehydrated
2 Tbsp fat (oil, shortening, butter, etc)
3 Tbsp flour
1/2 tsp chicken bouillon + 1 cup hot water
2 Tbsp dry milk + 1 cup hot water
2 cups dehydrated mixed vegetables
1 tsp dried thyme
2 tsp garlic powder
2 cups buttermilk biscuit mix + 1/2 cup cold water
Salt and pepper to taste
Directions:
Preheat oven to 425F. Dissolve the bouillon and dry milk in cups of
hot water, set aside. Heat the oil over medium heat, then add onions
and cook until soft. Add additional fat source, then stir in flour.
Cook, while stirring, for several minutes. Add the warm broth, stir
well, then slowly add the warm milk. Add the mixed vegetables, thyme,
and garlic powder. Bring the pot to a simmer, then reduce heat and
continue to simmer for 10-15 minutes, until vegetables are tender and
mixture has thickened.
Meanwhile, prepare the biscuit dough. Combine biscuit mix with cold
water, and stir until combined. Turn out onto lightly floured surface
and knead until the lumps have disappeared. Roll out to the
approximate dimensions of your baking dish.
Remove vegetables from heat, and pour into a casserole or baking dish.
Cover the vegetable mixture with the biscuit dough, stretching the
biscuit dough to the edges of the dish. Use a sharp knife to cut 3-4
thin slits in the dough to allow steam to escape. Bake for 15-18
minutes in the preheated oven, or until golden brown. Yield: 8
servings
Tips and Notes:
The #10 can of dehydrated mixed vegetables from Rainy Day Foods is
perfect for this recipe, it has a mix of peas, corn, carrots, and
green beans.
Slowly add more water during the 10-15 minute simmer if the mixture
becomes too thick. Stir well after each addition.
The fat and flour work together to thicken the vegetable layer of the
pot pie. Reduce or omit at your own risk!
[caption id="attachment_2171" align="alignleft" width="150"]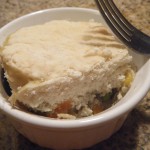 Vegetable "Pot Pie"[/caption]
[caption id="attachment_2172" align="alignleft" width="150"]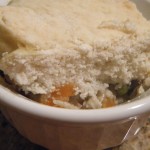 Vegetable "Pot Pie"[/caption]
[caption id="attachment_2173" align="alignleft" width="150"]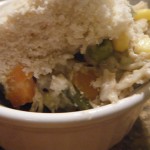 Vegetable "Pot Pie"[/caption]