We recently had a minor earthquake where I live.  This got me to thinking about whether or not my family is prepared for such an emergency.  A 72 hour kit is essential for any emergency.  There are many types of disasters and emergencies:  floods, fires, earthquakes, hurricanes and tornadoes.  In many cases, a 72 hour kit could mean the difference between life and death.  It is estimated that after a major disaster, it may take up to three days for relief workers to reach some areas.  Because of this, your kit should contain items to sustain you for at least 3 days.  Here are some things to consider when putting together a 72 hour kit: 
1.  Your kit should be in a portable container located near an exit of your house.
2.  Enclose extra clothing, matches, personal documents, and other items damageable by smoke or water in plastic to protect them.
3.  Keep a light source in the top of your 72 hour kit, so you can find it quickly in the dark.
4.  Personalize your kit.  Make sure you fill the needs of each family member.  For example:  games or activities for children, medications for the elderly or those with health problems, diapers, ointment, bottles and pacifiers for babies.
5.  Inspect your 72 hour kit at least twice a year.  Rotate food and water every six months.  Check medications and clothing for proper fit.  Check expiration dates on batteries, light sticks, food and water.
Rainy Day Foods carries a deluxe 2-person 72 hour kit that is very comprehensive.  It is in a heavyweight backpack and includes a 2 person dome tent.  The backpack leaves your hands free for other things and when filled only weighs 24 lbs.  It includes meals for 2 people for 3 days.  They add up to 2400 calories per person per day.  This is the recommended amount for people in a high stress situation.  There is a Stansport 10,000 BTU propane stove included and also 2 cooking pots.  The tent will give you privacy and protection from the elements.  It has shock-corded poles, stakes and a rainfly.  Two things I was happy to see included in this kit are some Pee Wee sanitation bags and 2 headlamps.  The lights will leave your hands free and they can clip on anything.  If you are a female you know it can be difficult to use the woods as a restroom; these bags will help.  It contains a lot of other things like a tri-fold shovel, saw, nylon cord, survival candles, 5-in-1 survival tool and a first aid kit.  I now have 2 of these kits in my home and I hope I'm never forced to use them.  However, if tragedy does strike I know that we are prepared.
[caption id="attachment_1239" align="alignleft" width="160"]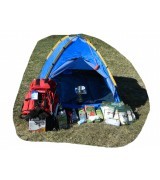 deluxe 72 hour emergency kit[/caption]
Contributed by Pam Higley