With the cold winter mornings upon us, I like to send my family on their way with a hot breakfast.  One of their favorites is a hot bowl of germade.  What is germade?  Germade is made from wheat that has had its bran and germ removed.  Then, the endosperm that is left is coarsely ground and packaged.  You may know it as farina. The name farina comes from the Italian word for meal or flour, which in turn traces to far, the Latin name for spelt, a type of wheat.  Farina was the first genuine flour before milling stones.  The most common name for germade is Cream of Wheat.  Germade is most often served as a breakfast cereal, but can also be cooked like polenta.  The great thing about it is that it is high in protein and easy to digest.  It is also very quick and easy to make.  Here is how I did it:
1 c. milk
¼ c. germade
½ tsp. vanilla
1 tsp. brown sugar
Heat the milk until just before boiling.  Reduce heat and add germade stirring constantly until thickened.  Add more milk if it is too thick.  It should be ready in about 10 minutes.  It may be served with assorted fruits, whipped cream, yogurt, maple syrup, raisins, or cinnamon.   It may also be prepared with boiling water.  The milk makes it a little creamier.
Rainy Day Foods carries germade in a 6 gallon bucket, 50 lb. bag and a #10 can.  My family loves how it tastes and how easy it is to make.  It would definitely be an excellent item to add to your food storage. 
[caption id="attachment_2083" align="alignleft" width="300"]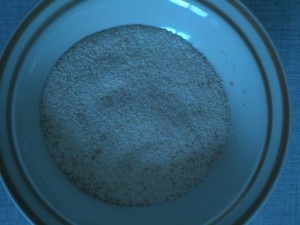 uncooked germade[/caption] [caption id="attachment_2084" align="alignleft" width="225"]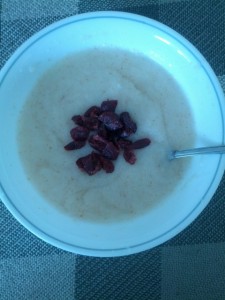 cooked germade[/caption]
Contributed by Pam Higley