I haven't had cinnamon rolls in years, but the other day I couldn't stop thinking about those warm, sweet treats. These cinnamon rolls  are low fat and whole wheat, so they're a bit healthier than their butter-laden relatives...but you won't be able to taste the difference!  These are lovely right out of the oven with a tall glass of cold milk, especially on a crisp weekend morning.
[caption id="attachment_1172" align="alignright" width="300"]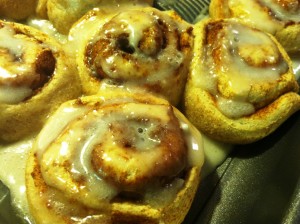 Brown Sugar Cinnamon Rolls[/caption]
Ingredients
Dough:
2 tsp white sugar
1 1/2 cups warm water
4 tsp yeast
3 cups whole wheat flour
2 tsp salt
Filling:
1 Tbsp water
3 Tbsp brown sugar
1 Tbsp cinnamon
Glaze:
2 Tablespoons milk reconstituted from powder
3/4 cup powdered sugar
1/2 tsp vanilla extract (optional)
Directions
Dissolve sugar into warm water, add yeast. Let sit 5 minutes or until foamy. Mix flour and salt, then slowly add the yeast. Knead by hand or with a mixer for 5 minutes. Cover, and let the dough rise until doubled in size (about an hour).  While the dough is rising, mix together the brown sugar and cinnamon in a small dish. Roll out dough into a large square, and brush on side lightly with water. Sprinkle on the brown sugar and cinnamon. Roll the square tightly into a log, and slice into 9-12 pieces. Place in lightly greased baking dish and cover, then let rise for another 30 minutes. Preheat the oven to 350F. Bake rolls for 20 minutes. Mix together the glaze from milk, powdered sugar, and vanilla extract. Add more milk as necessary to achieve the desired consistency. After the rolls come out of the oven, spoon icing over the top and serve warm.
Contributed by Kate Wilt