Homemade pizza may seem like a time-consuming venture, but a little advanced preparation can transform this dish into an easy weeknight meal.  The crust and sauce can be prepared days ahead of time, and fully-assembled pizzas may be frozen to ensure that you can have a wholesome meal at a moment's notice. Even better, this recipe can be made entirely from long-term storage foods.
[caption id="attachment_1004" align="alignleft" width="150"]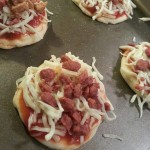 unbaked miniature pizzas[/caption] [caption id="attachment_1002" align="alignleft" width="150"]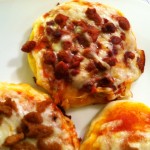 baked miniature pizzas[/caption]
Crust ingredients
1 1/2 cups warm water
2.5 teaspoons SAF instant yeast
3 1/2 cups flour
2 tsp. salt
2 Tbsp. butter powder
Optional: pizza seasoning blend
Directions
Dissolve the sugar or honey in the warm water. Add the yeast and stir, then set aside until a thick foam has appeared on the surface of the water.
Mix the flour, salt, and butter powder in a large bowl. Add the yeast and water, and then gently stir until the mixture begins to form a ball. Transfer the dough to a mixer or well-floured surface and knead for 8-10 minutes. Optional: add a large pinch of pizza seasoning to the dough as it is being kneaded.
Divide the dough into two equal-sized portions. Place each ball of dough into a clean bowl, cover with plastic wrap or a clean cloth, and let rise in a warm place until doubled in size (at least an hour).
The dough is ready to be used immediately after rising. Alternatively, wrap the risen dough in plastic  and store in the refrigerator for several days, or freeze for up to three months. Let come to room temperature before baking.
Yield: Enough crust for two medium pizzas or about 20 snack-size pizzas.
Pizza sauce:
Ingredients
1 1/2 cup water
1/2 cup tomato powder
1/2 teaspoon garlic granules
1/2 teaspoon pizza seasoning
Sugar and salt to taste
Directions
Mix water and tomato powder in a small saucepan. Add garlic powder and pizza seasoning blend. Bring to a boil over high heat, then reduce heat and simmer until thickened. Adjust seasonings as desired, and make the sauce thicker or thinner by adding additional tablespoons of tomato powder or water, respectively.  Can be used immediately, or refrigerated or frozen for later use.
Yield:  1 to 1 1/2 cup sauce
Assembly of pizzas:
Ingredients
1 ball of pizza crust
1/4 cup cornmeal
1 cup pizza sauce
1 cup shredded mozzarella cheese - freeze dried or fresh
Optional: Imitation sausage, imitation pepperoni
Directions
Preheat oven to 450F. Stretch a ball of prepared dough into a thin, flat circle on a cornmeal-dusted surface. Use this to make a full-sized pizza, or use a cookie cutter or clean jar lid to cut out small rounds of dough. Place the dough onto a baking sheet. Use a spoon to spread a layer of pizza sauce over the surface of the dough, and then cover with the shredded cheese of your choice. Top with sausage or pepperoni bits, if desired. Place on middle rack of oven and bake for 8-10 minutes, or until crust is evenly browned and cheese has melted. Let cool for 5 minutes, then serve and enjoy.
Tips and notes:
Either whole wheat or all-purpose flour can be used in the crust, or even a combination of the two.
Freeze dried ingredients , such as cheese and imitation meat, should be rehydrated with warm water before using.
Fully assembled pizzas can be stored in the freezer for up to three months. Freeze the pizza on a cookie sheet until solid, then wrap tightly in plastic. To bake, bring to room temperature and then follow directions above.
Small pizzas make great after-school snacks for children and teens. They are also perfect for lunchboxes - cook the pizzas at night, store in the refrigerator, and reheat in a microwave at mealtime.
Contributed by Kate Wilt