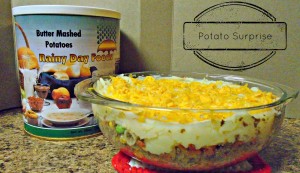 At the end of a long day, all you want to do is sit down and relax…but instead you have hungry tummies that need to be fed. The ultimate question—what to fix for dinner. It seems like that is one of the hardest questions to answer after a stressful day. You know you need to make something that will both satisfy the hunger and be nutritious. On the other hand, you just want to give each person a box of cereal and call it good. Why not pick something that is both filling and nutritious and also simple to prepare! That way you can feel good about what you're feeding your family for dinner and still have time to relax before bed. Using all the ingredients from Rainy Day Foods you can prepare this Potato Surprise in just minutes!
Start by getting a deep, glass dish that is safe to bake. Preheat the oven to 350'.
Take five minutes and mix together in the glass dish:
• 1 ½ cups of freeze-dried ground beef
• ½ cup of freeze-dried garden peas
• ½ cup of freeze-dried green beans
• 1 cup of dehydrated carrot dices
• ½ cup of freeze-dried, super-sweet corn
• 1 ½ cups of elbow macaroni
• 2 cups of water with 2 teaspoons of Montreal steak seasoning
[caption id="attachment_2640" align="aligncenter" width="300"]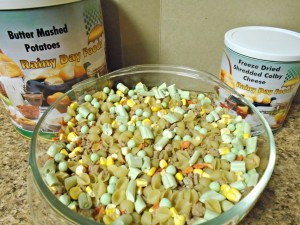 combine meat, veggies, and pasta[/caption]
Cover the glass dish with aluminum foil and put into the oven. While it bakes for 30 minutes, go sit down and relax. Once the timer goes off, put ½ cup of freeze-dried, shredded Colby cheese into a cup with ¼ cup of HOT water. Set aside.
[caption id="attachment_2641" align="alignleft" width="150"]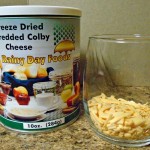 reconstitute freeze dried colby cheese[/caption] [caption id="attachment_2642" align="alignleft" width="150"]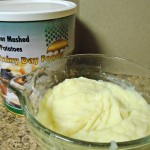 make a batch of butter mashed potatoes[/caption]
Prepare a batch of delicious butter mashed potatoes. Put 3 cups of water with 1 cup of the potato flakes. Microwave for 10 minutes, but make sure to stir at the 5 minute mark. Stir again once it is done, then take out the main dish that's still in the oven. Spread the potatoes evenly on top of the meat/veggie/noodle dish. Top with the shredded cheese, then bake again for 10 minutes.
[caption id="attachment_2643" align="aligncenter" width="300"]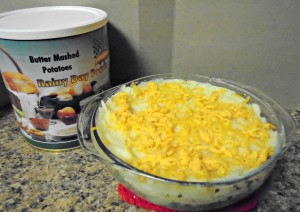 A quick and hot meal the whole family will love![/caption]
And just like that you have accomplished making dinner and gave yourself a few minutes to relax before dinner. Now go enjoy your meal with your family!
Contributed by Angelia Kunz