Spring has just arrived in my part of the country and it makes me want to trade in my hearty winter meals for lighter fare with lots of flavor.  This is a breakfast that you can put together by combining ingredients from your pantry with fresh items from your refrigerator  This would be a simple meal to make if you're just starting to learn how to use your food storage (a topic that I covered in last week's post).  The nutritional value to this parfait is also fantastic -- it has the appropriate balance of protein and carbohydrates to fuel your morning activities.
[caption id="attachment_1145" align="alignright" width="179"]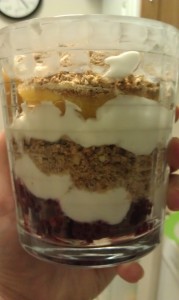 Raspberry Peach Yogurt Parfait[/caption]
Ingredients:
1/4 cup freeze-dried raspberries, rehydrated
1/4 cup freeze-dried peach slices, rehydrated
1/2 cup fresh yogurt, plain or vanilla
1/2 cup granola or cereal
Directions:
Layer the raspberries, peaches, yogurt, and granola in a small glass in any order.  Top with a dollop of yogurt and another sprinkle of granola. Serve immediately, or chill until ready to eat. Yield: 1 serving.
Tips and Notes:
Feel free to substitute your favorite fruits for the peaches and raspberries. Strawberries and blueberries would be delicious and give the parfait a patriotic color scheme!
The French Vanilla Almond Granola is wonderful in this parfait, but I'm sure that the Super Nutty Granola would also be great.
Contributed by Kate Wilt