I'm in the process of moving , which is always an exciting time.   What could be bad about more storage space and a bigger yard? However, trying to pack and move across town while still working full-time  doesn't leave me with a lot of energy for anything else.   This baked oatmeal is a great way to save time in the mornings while still delivering lots of nutrition.   This dish will last for several days in the refrigerator, so I made a big batch on Sunday and now my family will have filling breakfasts all week.  Just put a single serving in a bowl, microwave for a minute, and presto  -- breakfast is served!
Ingredients:
1 cup oat groats
2 cups milk, reconstituted from powder
2 cups water
2 very ripe bananas, mashed
1 Tbsp flax meal
1.5 tsp cinnamon
1/4 cup brown sugar
Directions:
Preheat oven to 350F. Lightly coat a 9x13 baking dish with cooking spray or oil.  In a large bowl, mix together oat groats, milk, and water. Stir in the mashed bananas, flax meal, and cinnamon. Pour oat mixture into baking dish, top with brown sugar, and sprinkle a little more cinnamon on top. Bake for 50 minutes to 1 hour. Serves 4-6.
Tips and notes:
The oat mixture tends to splatter when poured into the baking dish, so use caution.
The riper the bananas, the less sugar you will need to use to achieve sweetness.
Stir some freeze dried blueberries into the batter right before baking for even more flavor.
The oatmeal will thicken as it cools, so don't worry if it's not set when it comes out of the oven.
Contributed by Kate Wilt
[caption id="attachment_1600" align="alignleft" width="150"]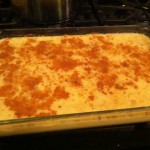 banana baked oatmeal[/caption] [caption id="attachment_1601" align="alignleft" width="150"]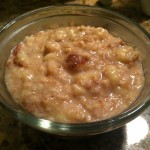 banana baked oatmeal[/caption] [caption id="attachment_1602" align="alignleft" width="150"]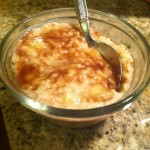 banana baked oatmeal[/caption]