[caption id="attachment_2302" align="aligncenter" width="225"]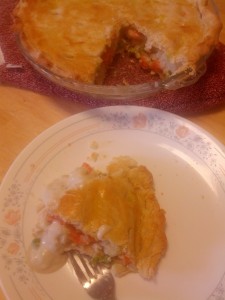 Chicken Pot Pie[/caption]
One of my family's often requested meals is Chicken Pot Pie. I acquired this recipe from a friend several years ago and it was quickly put into the rotation of favorites. While it takes a little time to make, the oohs and aahs you will hear make it worth the effort you put into it. This recipe makes two 9" pies so you can feed a lot of people or have leftovers the next day. If you look closely you will notice that nearly all of the ingredients in it can be acquired from Rainy Day Foods. Here is the recipe:
Chicken Pot Pie
1 lb. chicken or Freeze Dried Chicken Dices
½ cup chicken broth
Put chicken in pan with broth. Cover and bring to boil. Let simmer for 20 minutes and cool the chicken. You can cut it into pieces or shred it. Set aside.
Crust:
3 ¾ c. flour
1 ¼ tsp. salt
¾ c. butter or butter powder*
½ c. shortening or shortening powder*
12 Tablespoons cold water
Combine the flour, salt, butter, and shortening with a pastry blender until mixture resembles coarse meal. Then add the cold water. Mix into a ball, wrap in foil or plastic wrap and refrigerate.
*If using butter powder or shortening powder add 1 tsp. oil and extra water.
[caption id="attachment_2303" align="aligncenter" width="225"]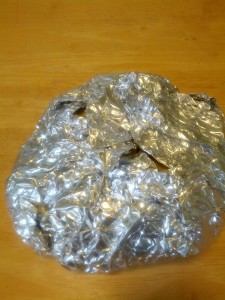 wrap the dough and refrigerate[/caption]
Vegetables:
3-4 med. Potatoes*
4-5 med. Carrots*
1 c. frozen peas*
1 c. frozen corn*
Cut potatoes and carrots into slices and cook in salted boiling water. Add corn and peas later. Drain when cooked.
*You could use Potato Dices, Carrot Dices, Freeze Dried Garden Peas, Freeze Dried Super Sweet Corn, Mixed Vegetables, or Vegetable Stew Blend. These could all be rehydrated in the same boiling water.
Sauce:
½ c. butter or butter powder
½ c. flour
3 c. chicken broth
2 c. half & half
1 tsp. thyme
2 tsp. salt
1 tsp. black pepper
¼ c. chopped onions
Melt the butter, stir in the flour and gradually stir in broth and half & half. Bring to a boil and cook one minute stirring constantly. Add the thyme, salt, pepper and onions. Combine the sauce, chicken and vegetables. **Note: I only use about half of the sauce when combining. I save the other half to put on top when it is served.
[caption id="attachment_2304" align="aligncenter" width="225"]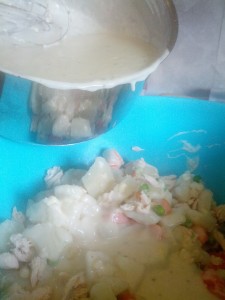 mix the sauce with the vegetables[/caption]
Divide dough into 4 balls. Roll out your dough and put into two 9" pie pans. Fill the pies with vegetable mixture. Roll out remaining two balls and top each pie with crust. Cut vents in each pie with a knife. Brush the top of each pie with this egg mixture: 1 egg mixed with 1 Tablespoon water. Save the egg to brush on the pies after 15 minutes of baking.
[caption id="attachment_2305" align="alignleft" width="225"]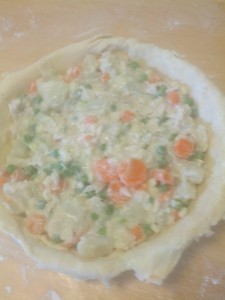 put mixture in pie shell[/caption] [caption id="attachment_2306" align="alignleft" width="225"]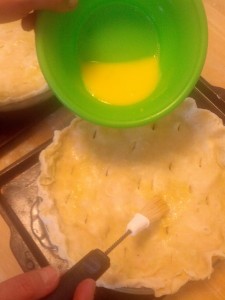 brush crust with egg mixture[/caption]
Bake in a 425 degree oven for 35 minutes or until golden brown. Serve with remaining sauce.
I hope you enjoy it as much as we do!
Contributed by Pam Higley