[caption id="attachment_1575" align="alignleft" width="300"]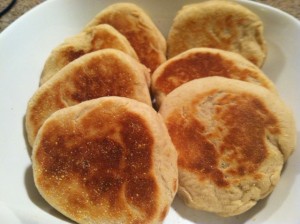 Homemade English Muffins[/caption]
I love to eat English muffins for breakfast (especially with  peanut butter and homemade jam), but they get more expensive every time I go to the grocery store.  Making them myself is not only cost-effective, but I also get to enjoy freshly-cooked English muffins that are warm and wholesome.  Try these with your favorite toppings for breakfast, or use them instead of bread for your sandwiches at lunch.
Ingredients
2 tsp instant yeast
2 cups warm water
3 cups flour of choice (I used 50% whole wheat, 50% all purpose)
4 Tbsp oil or melted butter
2 Tbsp powdered milk
1 1/2 tsp salt
1/4 cup cornmeal
Directions
Combine yeast, sugar, and warm water; set aside until foamy. In a large bowl, mix together the flour, oil, powdered milk, and salt.  Stir in yeast mixture, then turn dough out onto lightly floured surface and knead for approximately 10 minutes. Place in lightly oiled bowl, cover, and let rise for 30 minutes. Sprinkle cornmeal over a platter or baking sheet. Divide dough into 8 equal portions, flatten each one into a circle, then place on cornmeal-dusted surface. Cover and allow to rest for 30 minutes.
Heat a lightly oiled cast iron skillet over medium-low heat.  Place muffins on skillet and cook until puffy and golden, or about 3-4 minutes each side.
Tips and Notes:
A cast iron skillet is preferred for even cooking, but any flat pan will be sufficient. Muffins will stay fresh in an airtight container for several days, or freeze for several months. Defrost in the microwave or in a toaster before eating.
Contributed by Kate Wilt