[caption id="attachment_2332" align="aligncenter" width="225"]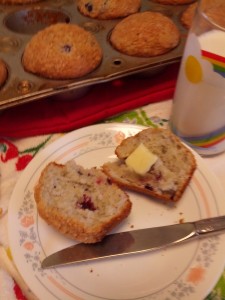 Huckleberry Muffins with Streusel Topping[/caption]
One thing my family absolutely loves is muffins! Whether it's for a special breakfast, a snack or camping, they are always excited when they see muffins coming out of the oven. This recipe is one of our favorites. I put frozen huckleberries in it but you could switch it up with nuts, chocolate chips, or any flavor of berry. Here is the recipe:
Huckleberry Muffins with Streusel Topping
3 cups Flour
1 ½ cups Sugar
1 tsp. Salt
4 tsp. Baking Powder
Combine flour, sugar, salt and baking powder in a large bowl.
Add:
2/3 cup vegetable oil
2 eggs or 5 Tbsp. Whole Egg mixed with 5 Tbsp. water
2/3 cup milk or 4 ½ Tbsp. Powdered Milk mixed with 2/3 c. water
Mix all together.
[caption id="attachment_2333" align="aligncenter" width="225"]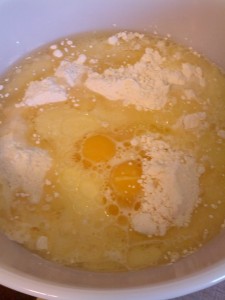 mixing the wet and dry ingredients[/caption]
Then fold in 2 cups of prepared berries. You could use Rainy Day Foods Imitation Blueberry, Apple Cinnamon, Raspberry or Orange Nuggets or Rainy Day Foods Freeze Dried Fruits.
[caption id="attachment_2334" align="aligncenter" width="225"]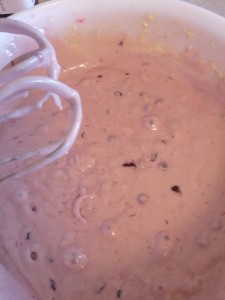 fold in berries[/caption]
Fill muffin cups. Prepare streusel topping and sprinkle on muffins. Bake at 400 degrees for 15-20 minutes. Makes 24 muffins.
Streusel Topping
Combine:
¼ c. Sugar or Brown Sugar
2 ½ Tbsp. Flour
1 ½ Tbsp. Butter
½ tsp. Cinnamon (optional)
Cut in the butter with a pastry blender until crumbly. Sprinkle over muffins.
[caption id="attachment_2335" align="alignleft" width="225"]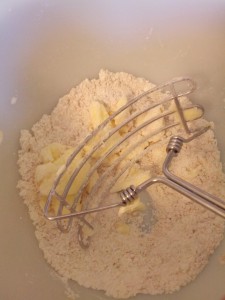 make the streusel topping[/caption] [caption id="attachment_2336" align="alignleft" width="225"]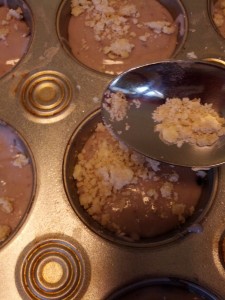 top the muffins with the streusel mixture[/caption]
I hope you enjoy these as much as we do!
Contributed by Pam Higley