When the weather is snowing like crazy or has below-freezing temperatures, there's no better food to warm up with than soup! Here at Rainy Day Foods, we have many delicious choices for you to choose from—including gluten-free! To finish off the winter season, we are going to be highlighting some of our favorite soups and help you warm up 'til spring. Our first highlight is our newest addition, Broccoli Cheese Soup. This creamy, flavorful soup pairs wonderfully with hot, fresh cornbread drizzled with honey.
Start by making the cornbread. Whether you're making a single serving or several loaves for a big family get together, this mouth-watering cornbread is very easy to make! It requires 1 part water and 2 parts of our corn muffin mix .
[caption id="attachment_2683" align="alignleft" width="150"]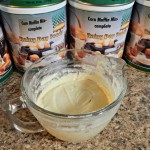 Mix up a batch of corn muffin mix.[/caption] [caption id="attachment_2684" align="alignleft" width="150"]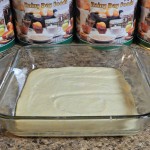 Pour into pan and bake[/caption]
Here, we made a 4 serving batch in an 8 inch square glass pan, so we whipped together 2 cups of cornbread powder and 1 cup of water. Once all the clumps are broken up and the mixture is now smooth, pour into a greased pan.
Bake at 350 degrees for 23 minutes, or until a toothpick comes out clean.
[caption id="attachment_2685" align="alignleft" width="150"]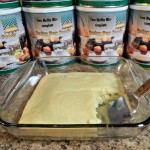 Fresh baked cornbread![/caption] [caption id="attachment_2686" align="alignleft" width="150"]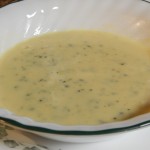 Broccoli Cheese Soup[/caption]
While that bakes, make your soup. This broccoli cheese soup is also easy to adjust to make however many servings you need. All you need to do is bring 3 parts of water to a boil, then add 1 part of the soup powder into the boiling water and whisk 'til smooth. Once all the soup has been blended together, remove the soup from the heat.
Slice up the fresh cornbread and spread some creamy honey on it and serve with the soup.
[caption id="attachment_2687" align="aligncenter" width="300"]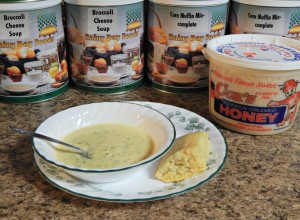 Broccoli Cheese Soup and cornbread[/caption]
Contributed by Angelia Kunz