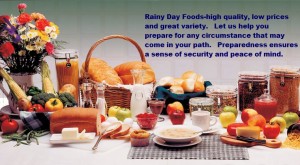 As I said in my last blog, a few weeks ago I attended a very interesting preparedness meeting that had a lot of great ideas. They gave some top ten lists that I thought were really good. The first list was the top 10 non-food items to store that I wrote about last time. This time I wanted to share the top 10 food items to store. Here they are:
1. Salt. Salt has many important attributes for food preservation as well as being a flavor enhancer.
2. Seasonings, spices, bouillon. These will store a lot longer than the labels may say and food prepared from storage will taste much better.
3. Honey. Honey has a long shelf life, is a great sweetener and has health benefits. It is an antimicrobial which means it fights infection.
4. Dry bulk items. These are your staples such as rice, beans, pasta, grains and sugar. They are inexpensive and long lasting.
5. Oil. For short term storage you should store vegetable oil and shortening. Olive oil and coconut oil are better for long term storage.
6. Freeze dried foods. These are the most expensive food storage, but they provide variety and great flavor.
7. Flour. If you aren't used to grinding your own, you will need to transition or you will send your body into shock. Having some on hand will help with that transition.
8. Kitchen staples. This would include baking soda, baking powder, yeast, vinegar, whatever you use for everyday cooking.
9. Nonfat dried milk. Milk is one of the basic necessities and it has been proven that people can survive on just powdered milk for quite some time. It also has a very long shelf life.
10. Pet food, animal feed. If you have a pet, he or she is going to need to eat as well. If you rely on animals, such as chickens for eggs, they will need to be fed to keep up their laying.
Well there you have it. I hope you will check it over and see what you need to work on. I know that it made me think of some things that I hadn't considered. Don't be afraid to research the best way to store items and other uses for them. Next time I will post the last list they gave to us: 10 other items to be prepared.
Contributed by Pam Higley