[caption id="attachment_2375" align="aligncenter" width="225"]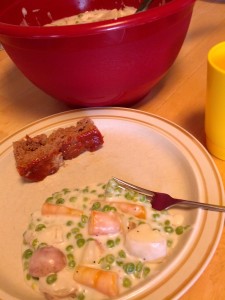 Creamed Garden Vegetables[/caption]
Here it is August already and we are starting to enjoy some of the fresh vegetables from our garden. We seem to wait impatiently for the day that we can pick peas and eat them while sitting under a tree. If you are like me and love to grow a garden, you might want to consider Rainy Day Foods Endless Garden Seed for next year. One of our favorite ways to eat garden vegetables is with a white cream sauce. It is one of those recipes that has been passed down from generation to generation. Here is the recipe:
Melt:
6 Tablespoons butter over low heat. (You could also use 6 Tablespoons of Butter Powder mixed with approximately ¼ cup of water.)
[caption id="attachment_2376" align="aligncenter" width="225"]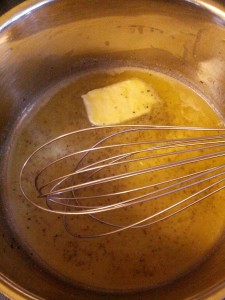 melt the butter[/caption]
Blend in:
6 Tablespoons Flour
¾ tsp. Salt
½ tsp. Pepper
Cook over low heat, stirring constantly, until smooth and bubbly; remove from heat.
[caption id="attachment_2377" align="aligncenter" width="300"]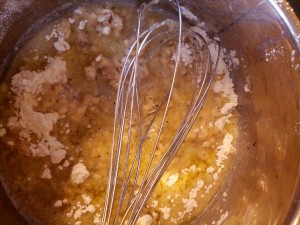 add the flour[/caption]
Stir in:
3 cups milk or 4 tsp. instant milk powder mixed with 3 cups water
Heat to boiling, stirring constantly. Boil and stir 1 minute.
[caption id="attachment_2378" align="aligncenter" width="225"]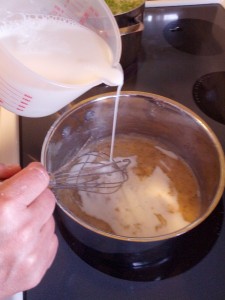 add the milk[/caption]
Mix with:
6 cups cooked vegetables (I used peas, carrots, and new potatoes). You could use Rainy Day Foods Freeze Dried Garden Peas, Carrot Dices, or Mixed Vegetables. If you don't want to mess with the sauce then you can use Rainy Day Foods White Cream Sauce Mix.
[caption id="attachment_2379" align="alignleft" width="225"]
vegetables I used[/caption] [caption id="attachment_2380" align="alignleft" width="225"]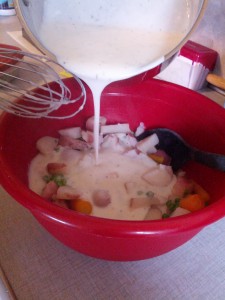 Mix sauce with the vegetables[/caption]
This is a recipe that you can enjoy no matter how you fix it. Everything tastes delicious with white cream sauce!
Contributed by Pam Higley